Thoughts on the dress
And now for the final post! I still can't really believe it's finished. I started this project almost 2 years ago. It was supposed to be a "quick one for in between". But in the end it was long and time-consuming, but I learned a lot in the process.
I wore the dress in march in Venice, even in the former home of Marianno Fortuny and his wife Henriette – the Palazzo Fortuny, which is now a museum.
It was a special moment for me in general, as I've been to Venice countless times but never managed to visit the museum thanks to Corona and the Acqua Granda in 2019.
And this time, I was already greeted by a huge video screen at the airport with the Palazzo Fortuny advertisement.
The museum was very lovingly designed and I was so happy because even the museum ladies praised me to the skies and were absolutely thrilled with the dress. It really was a wonderful experience. The hem of the dress has also survived wet grass and damp floors amazingly well. The pleats are still definitely there.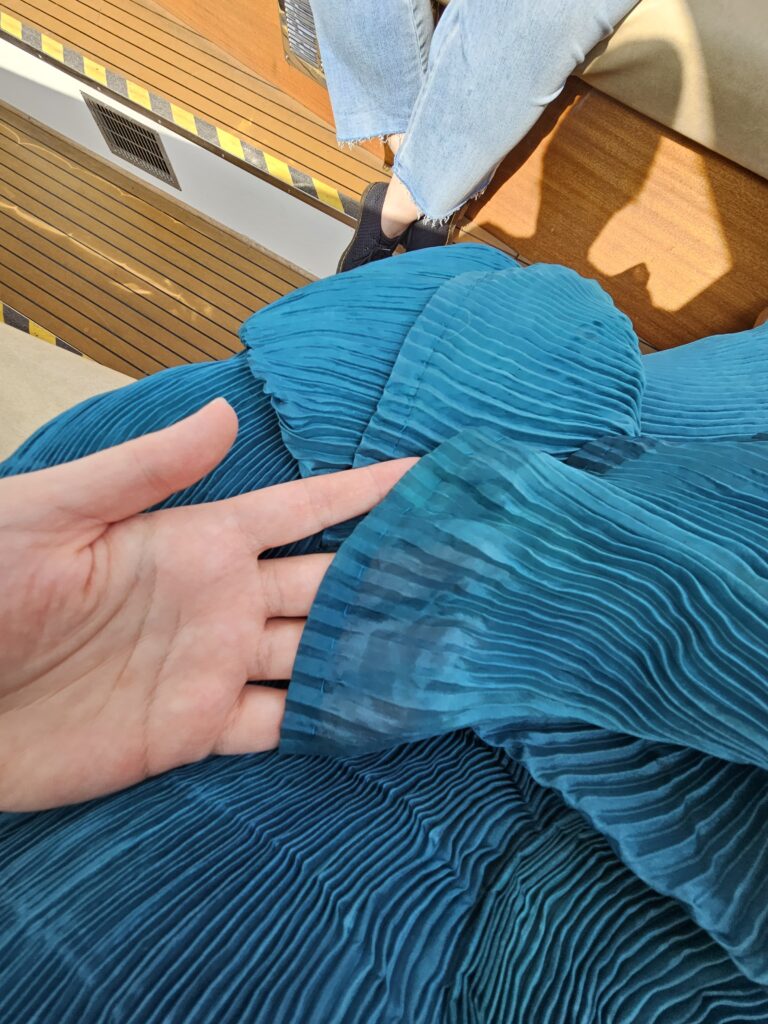 What would I do differently today?
First of all, I would choose a different length. Either longer or a lot shorter. Shorter would be practical, of course, because it's easier to walk around, but longer would have been more elegant. I also think that the fabric did shrink a bit due to the boiling water I used.
My second point would be to experiment with the albumen finish after all. The starch did a good job of keeping the folds in shape, but I think it could be better and the pleats could be tighter.
I would also try working with a satin next time in the hope that the dress would shine more – like the originals. And I would leave out my iron-on stripes. Maybe you could also fix the silk more permanently with perm fluid. But that would be a project for the distant future.
And now a few photos that my sister took of me with the patience of a saint!