Christmas is right around the corner and I saw so many people on Instagram and Facebook asking which books are good and which you can skip. When I started historical costuming I was pretty fast at a point where I would have loved to get book recommendations because there are SO many out there and it can be very overwhelming for a beginner and sometimes even for people who are 'long term members' of the costuming community. Many costuming books are also expensive compared to normal reading books you can get for 10 bucks. But those books are also a lot more expensive to make because the market is much smaller and they often feature high quality paper and a lot of pictures. Most of the costuming books you can get have a super small profit margin (cents per book!) but they still help someone achieving their (book wrinting) dreams!
And I got distracted as always. 😀
I now own a lot of costuming books (You can find the full list on my bookshelf), I love some of them very much but some of them are 'meh' and I wouldn't mind not having them.
Please remember that most books don't have multi-size patterns and no instructions so you should know how to fit a costume or have someone who can help you with resizing original patterns and fitting them!
My personal Must Haves
When I start sewing for a new time period my first book I grab is a Patterns of Fashion book. They have a great overview with patterns from the 1560s all the way to the 1940s.
There are currently 5 books in the range BUT they are sadly not available right not because they get a complete makeover by The School of Historical dress. They will start selling in 2021.
The next book I adore is Corsets from Jill Salen. It's a book about – you might have guessed it – corsets and stays ranging from the 1750s to the 1900s. They also have easy to follow instructions how to make a corset, handsewn and machine sewn and if you are a beginner you might appreciate that.
The Tudor Tailor is another book I really like and I used the patterns from the book to create a full Tudor outfit and also a linen-kirtle I wear when I work at a medieval fair in austria. It's a great book which covers everything Tudor and Elizabethan. I especially love that the book shows how to fit clothing. You also find patterns for women AND men and they took a really deep dive into fabrics and list all fabrics which were used in the time period.
My other must-haves are not exactly costuming books with patterns so I will list them later in this post!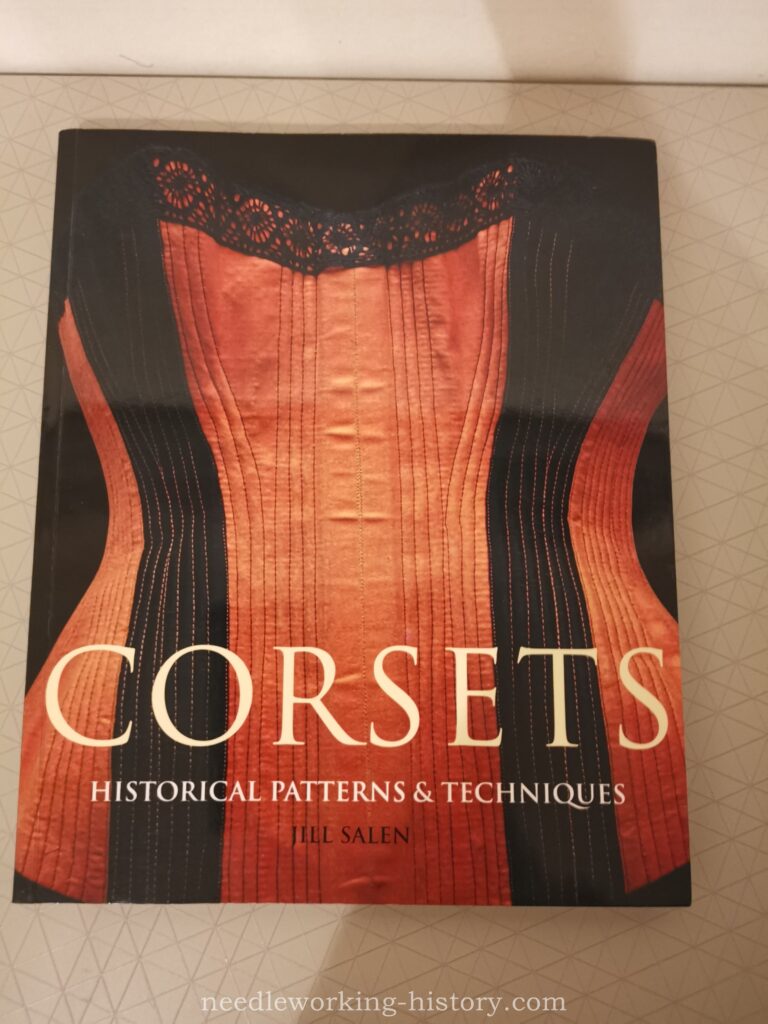 Books I still really like, but…
The American Duchess Guide to 18th Century Dressmaking is a book I own because I really was interested in their way of making dresses and the book is not bad at all. You have a few different outfits with underpinnings BUT you don't have a pattern for 18th century stays which I think is really missing because you need a good foundation before starting a dress. So if you are starting sewing for the 18th century you need to first find a book or a pattern with 18th century stays.
A companion book was The American Duchess Guide to 18th Century Beauty and I recommend reading my review of the book. It's good if you're based in the US but not so much when you're from everywhere else.
Coffee Table books, exhibition catalogues,…
Fashion – Kyoto Costume Institute: This is for me a must-have when it comes to museum-cataloges. You have a beautiful overview from the 18th to the 20st century, amazing pictures and good and short texts about the eras. If you can find and afford it you should go for the big coffee table version of the book and not the small one!
Christian Dior History & Modernity 1947-1957 from Alexandra Palmer is a book which gives me goosebumps everytime I open it. I really love vintage Dior fashion and this book took a few dresses which were photographed in such a beautiful way. Palmer also goes very deep into the subjects of fabrics, the collections they come from and also construction and craftsmanship.
If you know a Dior-lover get them this book!
Structuring Fashion from Bayrisches Nationalmuseum in germany is another great gift for everyone who loves to read about fashion history. A beautiful catalogue in english about many objects you can find in Patterns of fashion 5!
Another book I wanted to mention is Fäden der Macht from Katja Schmitz-von Ledebur. I was gifted the book by her during my internship at the KHM this year. I never knew how fascinating tapestries can be until this internship and I hold this exhibition catalouge very dear to my heart because it reminds me of my wonderful time there. And before I start talking about how much fun I had, I should mention that this book is also really really good and interesting and I learned SO much from it! (Still haven't finished it but I'm getting there…it's always a lot to process during reading)
Those were all my recommendations for now but I still need to talk about something very important. I know, nobody wants to hear it anymore, myself included, but due to this years situation it's extremley important to support small businesses, local museums, bookstores and shops. So if it is possible, try to buy your costuming books in your area and not online at the big A, as long as it's safe for you to go to shops, as long as it's safe for you to go out. But still, you could probably still order via email or phone in your local bookshop.
And go to your local museums, look if they have exhibition catalouges you're interested in and ask your local booksellers if they can order the books you want, they almost always can and are happy to do that.